In a few days Chaos Never Dies Day will be upon us. It's a day that recognizes chaos is a part of life, but the "holiday" also serves as an opportunity to take back control. Celebrating it means taking action to quell the chaos.
If you do just one thing on Chaos Never Dies Day it should be updating your life insurance policy.
How Life Insurance Helps to Control the Chaos
You can't control the unexpected. However, you can influence the outcomes after it happens by preparing for it. Life insurance is a chaos safety net for your loved ones. Here's a few ways that life insurance can limit life's chaos.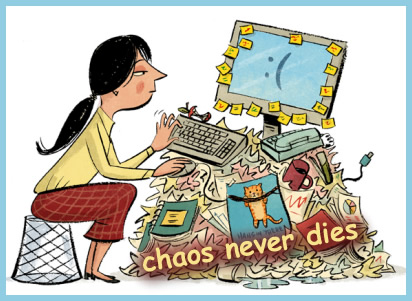 Peace of mind that your family is taken care of when you're gone. This is the biggest benefit to you the policyholder. If you are the breadwinner of the family it's all the more important to provide your family with means to support themselves.
It covers the cost of funeral expenses. This is much more of a financial burden than many people realize. According to the National Funeral Directors Associate, the average cost of a funeral in 2012 was $7,045.
Life insurance for your kids gives you further financial securing. In addition to covering funeral costs it can also offset loss of income from taking time off from work.
Kids are covered even if a health problem pops up. Another benefit to getting a life insurance policy for your child is that they can keep it for life in many instances. This is a huge relief if your child develops a health problem that would disqualify them from getting coverage when they're older.
The life insurance policy can be an asset that you can borrow against. After time your policy will build up a cash value. This cash value is seen as an asset and as such you can borrow against it if you need a loan. You can also withdraw a portion of the cash value if you need it for other expenses.
Tax benefits. There are significant tax benefits for the policyholder and their beneficiaries. For one the death benefit to the beneficiary is tax-free. However, other assets that are inherited are subject to estate taxes. The death benefit can help pay for estate taxes ensuring that beneficiaries can inherit without financial problems. Life insurance also qualifies as a tax-deferred asset accumulation.
Life insurance is a protected asset. In many circumstances life insurance benefits and assets are protected from creditors.
Even if you already have a life insurance policy it's important to make sure it's up-to-date so that it provides the best financial protection. Keep beneficiary information current, check in on how the cash value is building and brace yourself for all the other chaos you can't control.
Image Source: http://www.workplacerantings.com/
Original Source: http://www.mybiginsurance.com/life-insurance-blog/control-lifes-chaos-little-better-life-insurance