Insurance. It's usually not the first thing you check off on your packing list before heading to SXSW. But anytime you're traveling, it's smart to give your insurance policies a quick look. Here's what to search for in each policy.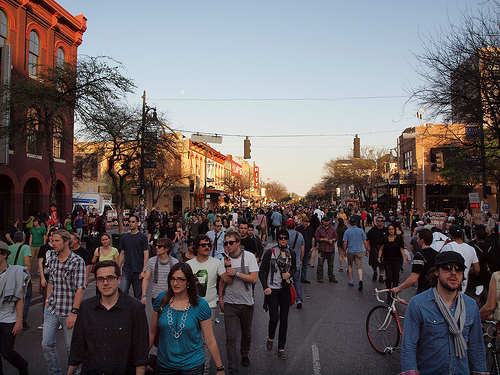 Car Insurance Checklist for Traveling
Whether you're driving your own or renting a car, automobile insurance is one of the most important policies to check. When you're out on the road you're more likely to need it, so make sure you're adequately covered by answering these questions:
Does your insurance cover a rental? No matter which rental service you use it's a given that they're going to ask if you want to purchase insurance. While this is something worth considering, first check to see if your rental is already covered by your car insurance. Look over the details, and if it doesn't seem adequate then go ahead and get the additional rental insurance or add a rider to your policy. There are usually numerous plans offered that cover specific items, like personal effects and liability. To minimize costs, just get what isn't already covered by your car insurance.
How long does your auto insurance cover a rental? If you're planning to be in Austin for the entire SXSW experience, you need to look into any limitations on how long your auto insurance covers rental cars.
Who all is covered on your car as a driver? Some policies limit coverage to specific drivers, while others cover everyone.
Does your insurance meet the minimum in Texas? In the state of Texas, residents are required to have a minimum amount of collision insurance. If you don't have liability insurance that covers at least $30,000 for each injured person, up to $60,000 total per accident and $25,000 for property damage per accident, go ahead and up your coverage.
Is your insurance card handy? Under Texas laws, you need to either have paper or electronic proof of insurance with you the whole time.
Home/Renters Insurance Checklist for Traveling
When you're away from home your house still needs protection. Below are questions that can be answered by taking a look at your home insurance or renters insurance policy.
How long will you be gone? If it's an extended vacation that will keep you out of your home for a long spell, it could cause your home insurance to lapse. However, this typically won't happen for at least 60 days.
Do you need to leave the utilities on? Shutting off the utilities can save money, but it can also cost you your insurance coverage. If a cold snap comes through and damage occurs because the house isn't properly heated, you could be on the hook for the costs. However, turning off the water is a good idea because it will keep potential flooding from happening. Check your policy to see how damage during your absence is covered.
Are all your possessions properly covered? When you're away on vacation your home and all the things inside it are more vulnerable. Thieves will sometimes even stake out neighborhoods to look for homes that appear to be vacant. Before heading out check the Coverage C section of your policy, which addresses personal property. If anything isn't properly covered call your agent to make adjustments.
What possessions are covered while you travel? When you checked the personal property portion of your policy you probably noticed your laptop or high-end camera was covered by your home insurance. But what if you take them with you to SXSW? Some policies will protect items that you take with you on your travels. If your policy doesn't consider getting personal property insurance to cover big-ticket items at all times.
Take a Look at Personal Umbrella Coverage
If your policies are looking a little slim you could up the coverage on each one or opt for personal umbrella protection (PUP). Personal umbrella insurance offers you additional protection on top of what you already have in the event that your auto or home insurance can't cover everything.
It's an affordable way to make sure insurance-related costs like legal fees and lost wages are covered instead of coming out of your own pocket. When you're away on your travels, packing an umbrella is always a good idea.
Image Source: www.flickr.com/photos/hmk
Original Source: http://www.mybiginsurance.com/travel-insurance/insurance-tips-sxsw-travelers/